Breakfast is the most important meal of the day. In fact, there is a reason why so many people enjoy having breakfast for dinner! When you think of breakfast, if you are anything like me, you think of a nice stack of pancakes dripping with syrupy goodness and a big side of bacon and eggs. This easy weight watchers breakfast recipe for pumpkin spice pancakes is one you NEED to print out and stick up on the fridge.
Need An Easy Weight Watchers Breakfast Recipe?
Pumpkin spice and everything nice, that's what fall is made of! While fall looks a lot different in Florida where I live, the taste of pumpkin spice pancakes puts me right in the autumn mood. Start your day off right, with a meal that will give you the energy to get through the morning. Indulge in a wonderful breakfast that is healthy and tastes great!
Table of Contents
This post may contain affiliate links. If you purchase something I recommend, it changes nothing for you, but it supports my family and makes me do a happy dance! Thanks.
Why You'll Love This Banana Pumpkin Spice Pancakes Recipe
Welcome to the flavorful fusion of banana and pumpkin spice that will redefine your breakfast game! These Banana Pumpkin Spice Pancakes are a culinary ode to fall, marrying the creamy sweetness of bananas with the warm hug of pumpkin spice. Imagine the delight of sinking your fork into a stack of fluffy pancakes, each bite a melody of comforting spices and tender, fruit-kissed goodness. Whether you're cozied up in a sweater on a brisk morning or simply craving the essence of autumn, these pancakes are a perfect choice. They're not just a treat for your palate; they're a wholesome, nutritious start to your day, aligning with your Weight Watchers plan and your desire for a satisfying, guilt-free meal.
Add Fruit to Your Pancakes
Thanks to the Zero Point Foods, fruit is a great way to add flavor bombs to your breakfast. While I was reading the first recipe for the pumpkin banana pancakes, FoodWineSunshine suggests making your own syrup using nothing but berries and their natural juices.
How Do I Make My Own Berry Syrup?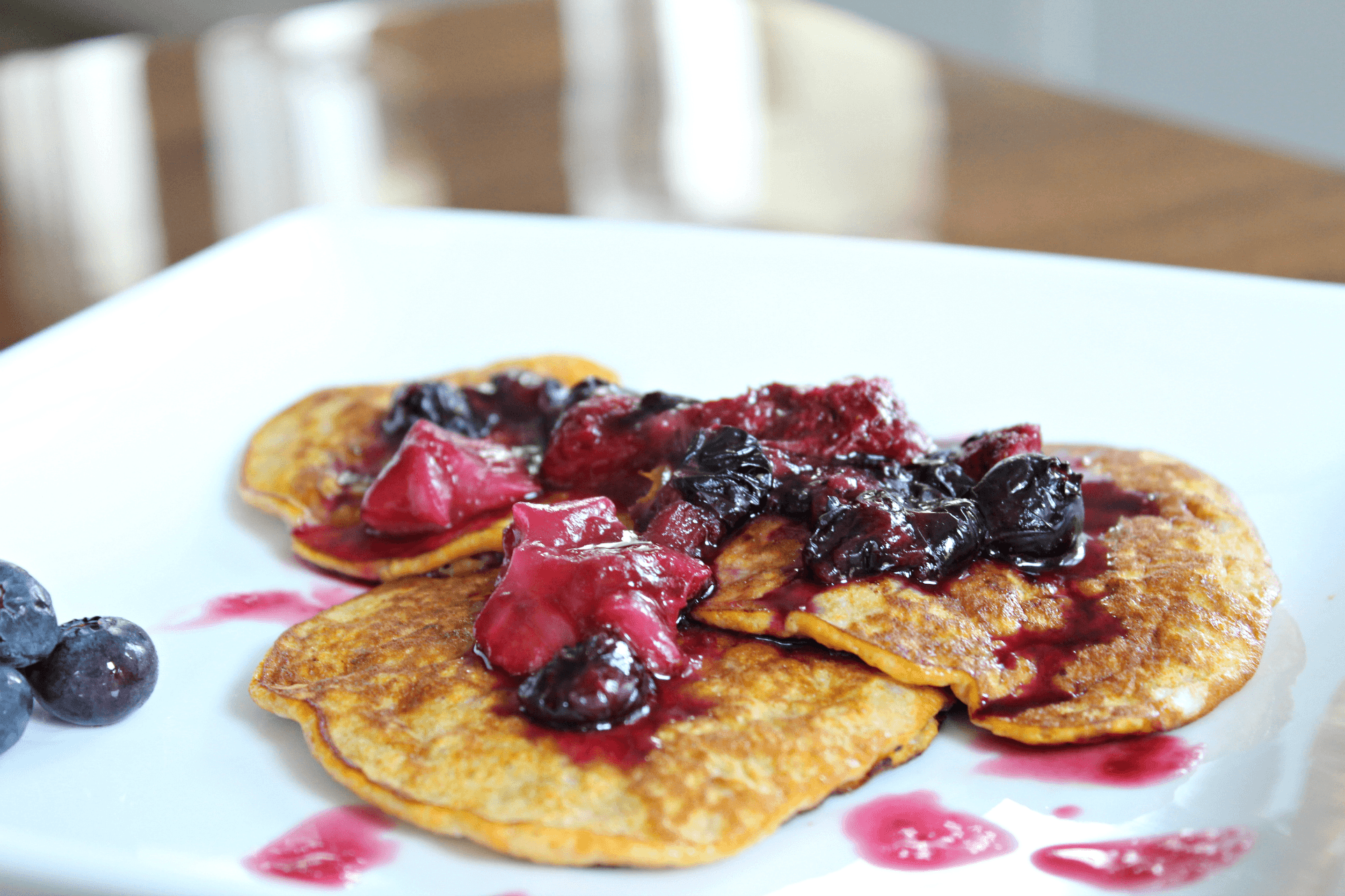 When I discovered how easy this recipe for Berry Syrup was, I immediately started to think of all the ways I could incorporate this into my other recipes!
Start with blueberries, quartered strawberries and a splash of water in a coffee cup.
Cover the cup with a paper towel to prevent the blueberries from exploding all over the inside of your microwave.
Microwave for about 30 seconds and stir.
If you need more time, microwave in 10-second increments until it reaches the consistency you are looking for.
Pro Tip: I am a huge fan of combining blackberries and blueberries. Use blackberries in place of strawberries for a "Bruise Berry Syrup".
What Other Toppings Can I Put On Pumpkin Banana Pancakes?
There are a number of toppings you could choose to switch up the taste of your pancakes. Besides the berry syrup listed above, you could also have fresh fruit, fat free cool whip, a sprinkle of PB2, nuts, seeds… it all depends on what you like and the points you want to use.
However, I am a huge fan of Walden Farms Syrups. They offer a wide variety of flavors that have no calories, no fat, no carbs, no gluten and no sugar. That's right, none of that yucky stuff and all the good flavor and ZERO POINTS.
You may find a few of these already in your local stores or Walmart, but you can also purchase directly from their site.
Maple Bacon Syrup (How Perfect!)
Chocolate Syrup
Caramel Syrup
Pancake Syrup
Blueberry Syrup
Maple Walnut Syrup
Strawberry Syrup
The syrup bottles listed above are $4.99 each for a 12 oz bottle. For the first 10 items, shipping is $8.95, 11-20 items another $8.95 shipping charge, 21-30 is another $8.95 and so on. For the best deal, cooperate with others in the area to split an order with you to maximize your value.
Also, if you would rather shop on Amazon, that is an option as well!
I highly recommend using the maple walnut syrup for my Maple Walnut Pork Chops and Maple Roasted Brussels Sprouts too!
Frequently Asked Questions
Are these pancakes suitable for kids?
Certainly! These pancakes are not only adult-approved but also kid-friendly. The natural sweetness from the banana makes them appealing to young taste buds, while the pumpkin spice can be adjusted to suit their preferences. It's a fantastic way to introduce children to the flavors of the season in a format they already love. Plus, involving kids in the pancake-making process can be a fun and engaging way to spend quality time together in the kitchen.
Can I substitute fresh pumpkin for canned pumpkin?
Yes, you can substitute fresh pumpkin for canned pumpkin at the same measurements. In fact, making fresh pumpkin puree is so simple, there's really no reason not to use it fresh if it's in season. Check out this video below to see the comparison.
Can these pancakes be made in advance and stored for later?
Yes, these banana pumpkin spice pancakes are as convenient as they are delicious. Make a batch and let them cool completely, then store them in an airtight container with sheets of parchment paper between each pancake to prevent sticking. They'll keep in the refrigerator for a few days or in the freezer for up to a month. When you're ready to enjoy, simply reheat them in the microwave or on a warm skillet until heated through.
How Do I Make Pumpkin Banana Pancakes?
How Many Points Are In This Recipe?
With the new Plan, points can vary for those with diabetes. Check your zero point foods. Points can also vary with different brands. Please use your recipe maker to determine your exact points.
Are You on WW Connect?
Find me on WW Connect @Sassycooking_Alyssa to see my full recipe list!
Banana Pumpkin Spice Pancakes
These delicious pancakes made with a combination of pumpkin puree and banana are a wonderful treat for the holidays and fall season! The pumpkin puree adds a subtle and unique flavor to the pancakes, and the banana brings a natural sweetness as well as a creamy and rich texture.
Ingredients
1 Banana
3 Eggs
½ cup Pumpkin Puree (Drain excess liquid well!)
1 tsp Cinnamon
1 tsp Vanilla Extract
Instructions
Mash the banana into the pumpkin puree until they are well combined.
Crack the eggs into the mixture, adding in the cinnamon and vanilla. Stir well to combine all the ingredients.
Heat your non-stick skillet on medium heat and spray with your favorite cooking spray.
Sprinkle a little water into the pan, if it sizzles, your pan is hot enough to cook.
Pour the batter into little silver dollar sized pancakes.
Allow the pancakes to cook about a minute per side. You will know to flip them when you see them start to bubble up.
When cooked through, remove from the pan onto a plate.
Top with your toppings of choice and serve warm.
Notes
If you run your spatula under a bit of water first, it won't stick to the pancake when you flip it!
Feel free to top with banana slices and pecans!
Recommended Products
As an Amazon Associate and member of other affiliate programs, I earn from qualifying purchases.
Nutrition Information
Yield

4
Serving Size

1 grams
Amount Per Serving
Calories

95
Total Fat

4g
Saturated Fat

1g
Trans Fat

0g
Unsaturated Fat

2g
Cholesterol

140mg
Sodium

55mg
Carbohydrates

10g
Fiber

2g
Sugar

5g
Protein

5g
*This is an automatic calculation by a third party app*
Imagine waking up to a morning where your breakfast not only fills you with warmth and satisfaction but also aligns with your wellness goals. These Banana Pumpkin Spice Pancakes are more than just a meal; they're a celebration of seasonal flavors that bring joy to your table. They offer a perfect blend of nutrition and indulgence, making them a staple in your recipe collection. So why wait for a special occasion? Make any day feel like a festive autumn morning with these delectable pancakes that promise to be as nourishing for the body as they are for the soul.
When You Need A Sweet Treat…
Broiled Creme Brulee
Berry Cheesecake Parfait
Chocolate Mousse
Looking for more recipes?
Get My Starter Guide FREE!
What are the Best Tools to Conquer Emotional Eating?
Are you looking to Conquer Emotional Eating For Good? Start with my FREE printable workbook! With pages to help you learn your triggers and work through them, with tips and advice to move past emotional eating, the workbook is the perfect place to get started!
Would You Rather Take My Course? Get On The List To Be Notified When It Launches!