The popularity of breakfast foods is a good reason to keep dependable starters, such as eggs, bread and other staples, on hand. But why reserve them only for morning meals? Planning breakfast for dinner is a good way to serve up simple, satisfying evening meals without spending a lot of time in the kitchen.
What Are Some Easy Egg Recipes for MyWW?
The two recipes we are going to explore are a Tomato Strata Florentine and Cloud Eggs. These two dishes are easy to prepare and aren't necessarily commonly made. There are also several other egg recipes for MyWW that would be great for turning breakfast into a weeknight dinner like my Butternut Squash Noodles or Pumpkin Banana Pancakes. If you are really in a hurry, tossing some scrambled eggs into whole-wheat pasta or into a stir fry is also an option!
Frequently Asked Questions About Cooking Eggs:
What happens if I get a bad egg? This is rare, but it's not impossible. If you crack your eggs into a separate bowl before you add them in to the rest of your ingredients or your pan, you can spot a problem before ruining your recipe. Use your senses, if the color is wrong or if there is a strong odor, then the egg is bad and you shouldn't use it.
What if I drop the egg on the floor? When I learned this tip, it was a game changer. Pour salt all over the egg, and walk away for about 15 minutes. The salt will actually alter the chemical makeup of the egg to set the protein, making it a breeze to wipe up!
If you find an egg stuck to the carton, fill the indentation with cool water and let sit for five minutes. The water will soften the dried egg white that is holding the egg.
What Is The Best Way To Make Hard Boiled Eggs? There's always the traditional way of placing them in a pot water, bringing it to a boil, then letting them sit in the water for 10 minutes before shocking them with cold water. However, you can also use an instant pot and pressure cook them for 5 minutes on high pressure. You could also use Casserole Crissy's method of making hard boiled eggs in an air fryer!
What is a Strata?
A strata is a simple dish that roughly translates into "layers", making it a delicious option for breakfast, lunch or dinner. By layering cubed bread, spinach and tomatoes, you can create a quick and easy healthy meal. The points can vary greatly depending on the type of bread that you use.
Check out this Guide for the
Best Bread To Eat on MYWW from Smiley's Points!
If you prefer to make individual servings, use a muffin tin to prepare little egg bites. This is a great option for make-ahead breakfast meals or when you need to grab something to eat fast. Just take them out of the fridge, microwave to reheat them and off you go! You can also prepare this in advance in a baking dish and store it in the fridge until you are ready to cook. This is an easy, affordable and healthy meal packed with protein, low calorie and low fat! The recipe below provides enough for 4 servings.
Recipe for Tomato Strata Florentine
Points For This Recipe Vary Depending On Bread Used!
Check Your App For Accurate Tracking!
Ingredients
Cooking spray
2 cups torn fresh spinach (about 4 oz.)
2 slices whole-wheat bread, cubed (about 1 1/2 cups)
1 cup chopped fresh tomato (about 1 medium)
1 teaspoon Italian seasoning, crushed
4 eggs
1 cup skim milk
1/4 cup (1 oz.) shredded fat-free mozzarella cheese
Directions For Individual Servings
Evenly spray a 4 section muffin tin with the cooking spray
(see product recommendations below!)
Place 1/2 cup of the spinach in each cup.
Sprinkle each with about 1/3 cup of the bread cubes.
In a medium bowl, mix diced tomatoes and seasoning until combined well.
Spoon the tomato mixture over bread cubes in each cup.
In a medium sized bowl, whisk together the eggs and milk.
Slowly pour egg mixture evenly into each cup.
Sprinkle each with 1 tablespoon of the cheese.
Bake in preheated 350 degree F oven until custards are puffed and begin to pull away from sides of cups and knife inserted near centers comes out clean, about 30 minutes.
*For baking pan: Layer entire amounts of all ingredients as above in sprayed 8 x 8 x 2-inch baking pan. Bake as above.
Products I Recommend
How Do You Make Cloud Eggs?
If you are anything like me, you are getting bored and looking for something other than basic eggs for breakfast. Cloud eggs come together in just a few minutes and they taste wonderful. Reach for this recipe whenever you have overnight guests or when you simply want to jazz up your weekend brunch menu.
Tips for Making Cloud Eggs
When preparing Cloud Eggs, it is much easier to add the yolks to the baked egg white "clouds" if you place them in individual containers after separating them from the whites. (If you place them all into a single bowl, they are much more difficult to transfer to the individual "clouds" without breaking).
Another tip when making Cloud Eggs: If you don't want to dirty several bowls or containers, use the larger half of the broken egg shell to hold the yolks while the egg white "clouds" are baking. Place them back in the egg carton or next to each other in a small bowl to prevent the yolk from spilling out, then simply pour them into the individual "clouds" before returning to the oven. 
A final Cloud Eggs tip: Make sure the indent you create in your egg "clouds" before baking is deep enough. Otherwise, it may disappear during baking and there won't be anywhere to place the yolks.
Recipe For Cloud Eggs
Ingredients
4 large eggs
3 oz. Feta cheese, finely grated, divided
3 tbsp fresh chives, finely chopped, divided
Salt and black pepper, to taste
Directions:
Position oven rack to the center position. Preheat oven to 450°F and line a large, rimmed baking sheet with parchment paper and set aside.
Crack and separate eggs, placing the whites in a large mixing bowl and reserving the yolks in another bowl.* Season egg whites with salt and pepper, to taste.
Using a hand mixer or immersion blender, beat the egg whites until stiff peaks form. Scrape the sides of the bowl with a spatula while blending to incorporate all of the egg white.
Gently fold in 2/3 of the feta cheese and chives into the bowl, being careful not to deflate the egg whites in the process. Spoon the whipped egg white mixture onto the prepared baking sheet into four piles, leaving plenty of room between each mound. With the back of a spoon, create an indent in the center of each mound and place baking sheet on center rack in preheated oven and bake for 3 minutes.
After 3 minutes, remove from oven and transfer reserved yolks into the indent of each mount. Sprinkle each mound with half of the remaining cheese and fresh chives and return to oven and bake another 3 minutes or until yolks are set and egg whites are golden brown.
Remove egg clouds from oven and sprinkle with remaining cheese and chives and serve immediately.
*For best results, reserve the egg yolks in small, individual dishes rather than in one larger bowl.
Looking For More Egg Recipes?
There are so many amazing recipes out there for eggs… Check out this short list!
Bell Pepper Egg Rings – Simple, but packed with nutrition and flavor. This low carb twist on "Egg in a hole" makes a delicious breakfast.
Healthy Spinach Egg White Muffins – Bored of eating omelette for breakfast? Whisk up these No cheese, fluffy, filling Baked Spinach Egg White Muffins that are very healthy and delish and a perfect treat for weight watchers.
Turkish Eggs – A delicious savory Mediterranean recipe perfect for a fast weeknight dinner or a show-stopping weekend brunch.
Sheet Pan Scrambled Eggs – When you want an easy recipe for meal prepping, check out this recipe for sheet pan scrambled eggs.
Egg Bhurji – An Indian spin on scrambled eggs, spice up your mornings with the bright spice of turmeric, coriander, cumin and chili pepper.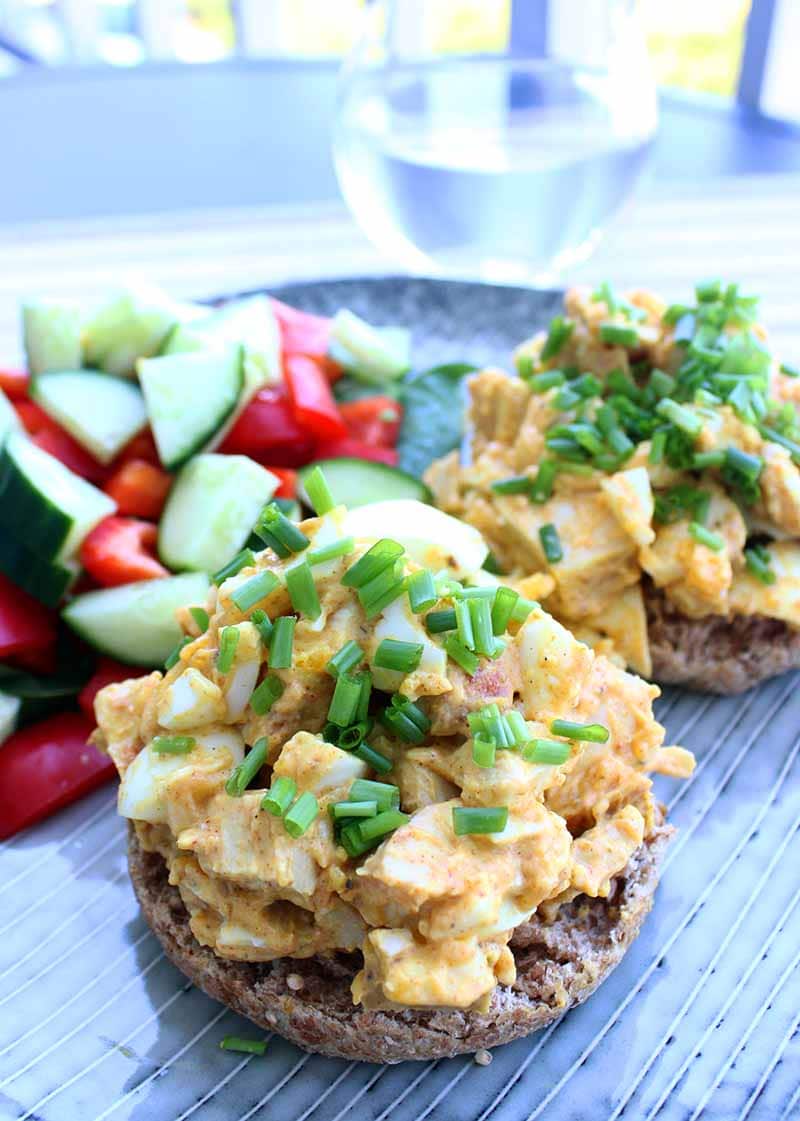 Chicken and Egg Salad – This healthy chicken and egg salad is one of my go-to lunch recipes. It tastes amazing, is super easy to put together, and is perfect for meal prepping.
Check out these other easy egg recipes!
Sign Up For Our Email List and Get This Starter Guide for Emotionally Healthy Eating!