There are so many more reasons to incorporate recipes for zucchini into your healthy eating habits besides just its price point and nutritional properties. There are even lots of creative ways to incorporate it into your everyday cooking. Zucchini is one of the most versatile vegetables you can have in your garden or on your table. It's inexpensive, packed with important nutrients and high in water content, which makes it a great choice as a staple vegetable.
Why Recipes for Zucchini are Healthy: The Underrated Vegetable You HAVE to Try
First of all, if my mother is reading this… Yes, I've finally come to appreciate and even like zucchini. As a child, zucchini and I were not friends. During a family vacation down the Jersey shore, my Godmother purchased an ungodly amount of zucchini because it was on sale… and for our weeklong trip, we had zucchini in almost every meal and in any possible recipes that you could think of. That experience had me convinced I needed to swear off zucchini for life.
It wasn't until suddenly, I was a type II diabetic, desperately trying to get my A1C back under control with a focus on low carb eating. Now that I needed to find replacements for foods that I loved, I found recipes for zucchini that suited my cravings. I'm proud to say that rediscovering the zucchini helped me to get my blood sugar back into an acceptable range after choosing the best myWW for diabetes. Now I want to share all this zucchini knowledge with all of you!
Table of Contents
What does zucchini do for your body?
Zucchini has absolutely no fat but it does have high amounts of fiber and water along with significant amounts of other vitamins like C, K, B6 and also minerals like potassium. With all of that in mind, what does zucchini actually do for your body?
Improves Your Digestion
Anti-inflammatory Properties Eases Inflammation
Antioxidents to Rid Your Body of Toxins
Lowers Blood Sugar Levels
Healthy for your Heart: Increases Circulation & Decreases Blood Pressure.
Lowers Cholesterol Levels
Improves Eye Health
Improves Thyroid and Adrenal Functions
Is Zucchini good for Low Carb or Keto?
Do you want a short answer? Yes, they absolutely are. The longer explanation is zucchini is a low carb powerhouse of nutritional value. With only 3 grams of net carbs for one that is medium-sized, and 2 grams per cup when it's shredded, you can add zucchini as a substitute for starchier vegetables in soups, as a replacement for pasta or as a binder in recipes like meatballs or even cakes! As a bonus, the fiber in zucchini will allow you to use it in a variety of recipes as a filler to help you stay full longer. This ultimately means that zucchini is a great food to help in weight loss as it is low in carbs, low in calories and high in nutritional value.
Can you have recipes for zucchini for breakfast?
When it comes to breakfast, zucchini may not be your first thought as an ingredient to use. However, zucchinis are actually considered to be more of a fruit than a vegetable! With that in mind, I went searching for a breakfast recipe for zucchini. I found Baker by Nature, she posted an intriguing recipe for zucchini pancakes using Greek yogurt and whole wheat flour. She suggests serving them with fresh berries and a drizzle of maple syrup. The picture she shared made them look amazing! To be more weight watcher friendly, use nonfat Greek yogurt.
Healthy Greek Yogurt Zucchini Pancakes – Baker by Nature
Healthy Greek yogurt zucchini pancakes so soft, sweet, and fluffy, you'll want them for breakfast everyday! Top with fresh berries, a drizzle of honey, or good old fashioned maple syrup – no matter how you dress them up, this stack is sure to please any pancake lover.
Get The Recipe
What are some good recipes for zucchini for kids?
Zucchini is a vegetable that is very popular with kids. They are easy to cook and are inexpensive, something that parents love. Some good zucchini recipes for kids are zucchini fries, zucchini fritters, and zucchini lasagna.
What are some tips for making healthy zucchini recipes for kids?
Kids do not like to eat vegetables and zucchini is no exception. However, there are ways to make it enjoyable. Add some spices and seasonings to it, perhaps even fruit This will give the zucchini nice flavor and mask its taste. If your kids love spicy dishes, add some cayenne pepper or chili powder to ramp up the flavor. If you're searching for kid-friendly zucchini recipes, look for recipes that mimic other favorite dishes like these zucchini pancakes or you can find in the frozen aisle bags of zucchini spiral noodles that you can use as a pasta base.
Is it good to eat zucchini every day?
As I mentioned before, zucchini at every meal or even on a daily basis can be a bit much for any person. We also know that too much of anything is never a good thing. That being said, zucchini is a great source of vitamins and minerals to maintain healthy eating habits.
What flavors go well with zucchini?
It is one of the most versatile vegetables as it takes on a lot of the flavors from whatever you are cooking it with. From pizzas to pasta bowls, soups to sandwiches, there's a recipe out there for everyone.
Herbs and Spices: basil, oregano, garlic, thyme, ginger or cinnamon
Produce: onion, corn, sweet bell peppers, tomatoes, eggplant, lemon or mushrooms
Cheese: ricotta, goat cheese or feta
Protein: salmon, shrimp, eggs, chicken
Other Flavors: quinoa, pecans… even CHOCOLATE
Yes, you read that correctly. Chocolate can actually be a great pairing for zucchini as a sweet dish with a little bit of cinnamon! If you are trying to sneak more vegetables into dishes for your children (or for your husband if he's like mine!) try making zucchini brownies! I found a great recipe that uses gluten-free baking flour, applesauce, and coconut sugar on Texanerin Baking.
Zucchini Brownies (gluten-free, dairy-free options) – Texanerin Baking
The gooiest zucchini brownies ever! You'd never guess these are made a little healthier and made with whole grains (but can also be made with all-purpose or gluten-free flour) or that zucchini and that applesauce takes the place of oil! Not convinced? Check out the reviews! With a how-to recipe vide…
Get The Recipe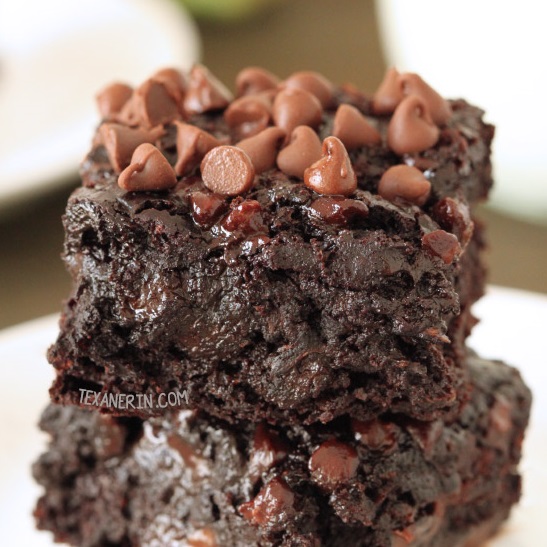 What are the best recipes for zucchini?
We have already discussed two great zucchini recipes that I found while researching zucchinis. However, I do have this awesome list from my favorite bloggers that you simply have to try!!
Easy Zucchini Relish Recipe for Canning
I loved this recipe because it's different than the other typical recipes you find online. This relish would make a savory topping for a burger and Attainable-Sustainable suggests adding it to egg salad or a meatloaf. This mixture of zucchini, onion, red bell pepper and jalapeno mixed, preserved in a mixture of sea salt, pepper, sugar, vinegar, turmeric, mustard seeds and nutmeg makes this a sweet and spicy bite.
Get The Recipe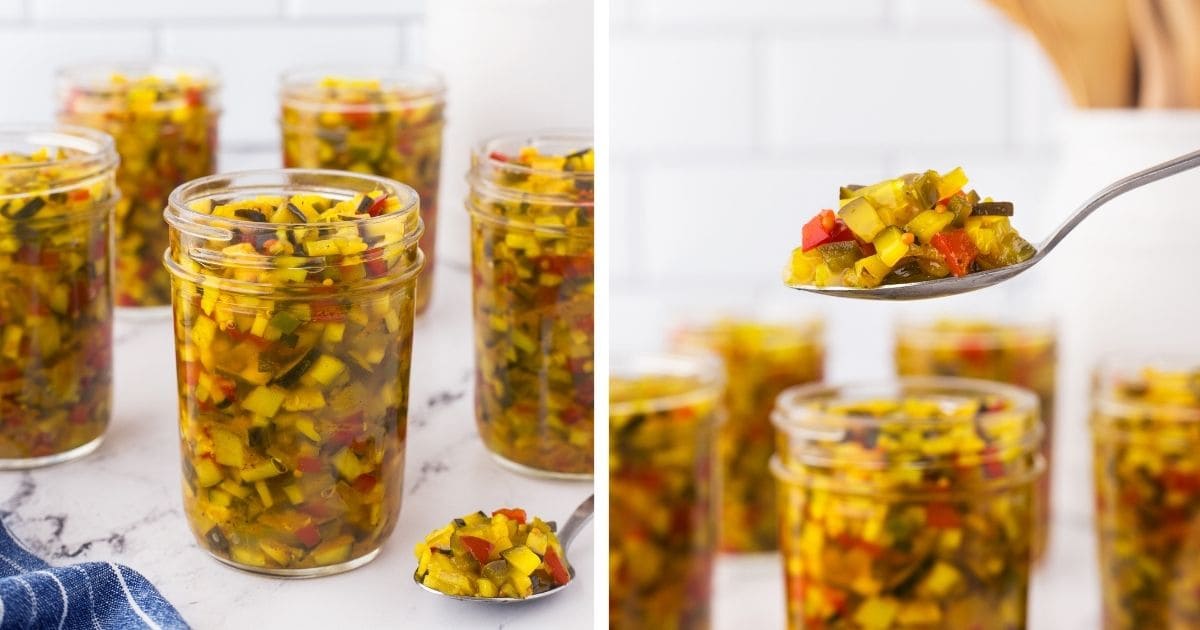 Spicy Taco Stuffed Zucchini – Stef's Eats and Sweets
Start by hollowing out your zucchini to form a canoe or boat shape. Zucchini can be stuffed with so many different things but this recipe by Stefs Eats and Sweets takes its inspiration from a spicy taco. It uses ground turkey, Roma tomatoes, onion, jalapeno and shredded pepper jack cheese seasoned simply with chili powder, garlic, salt and pepper. If you are hunting for zucchini recipes for kids, just take down the spicy level to one that your kids will approve of.
Get The Recipe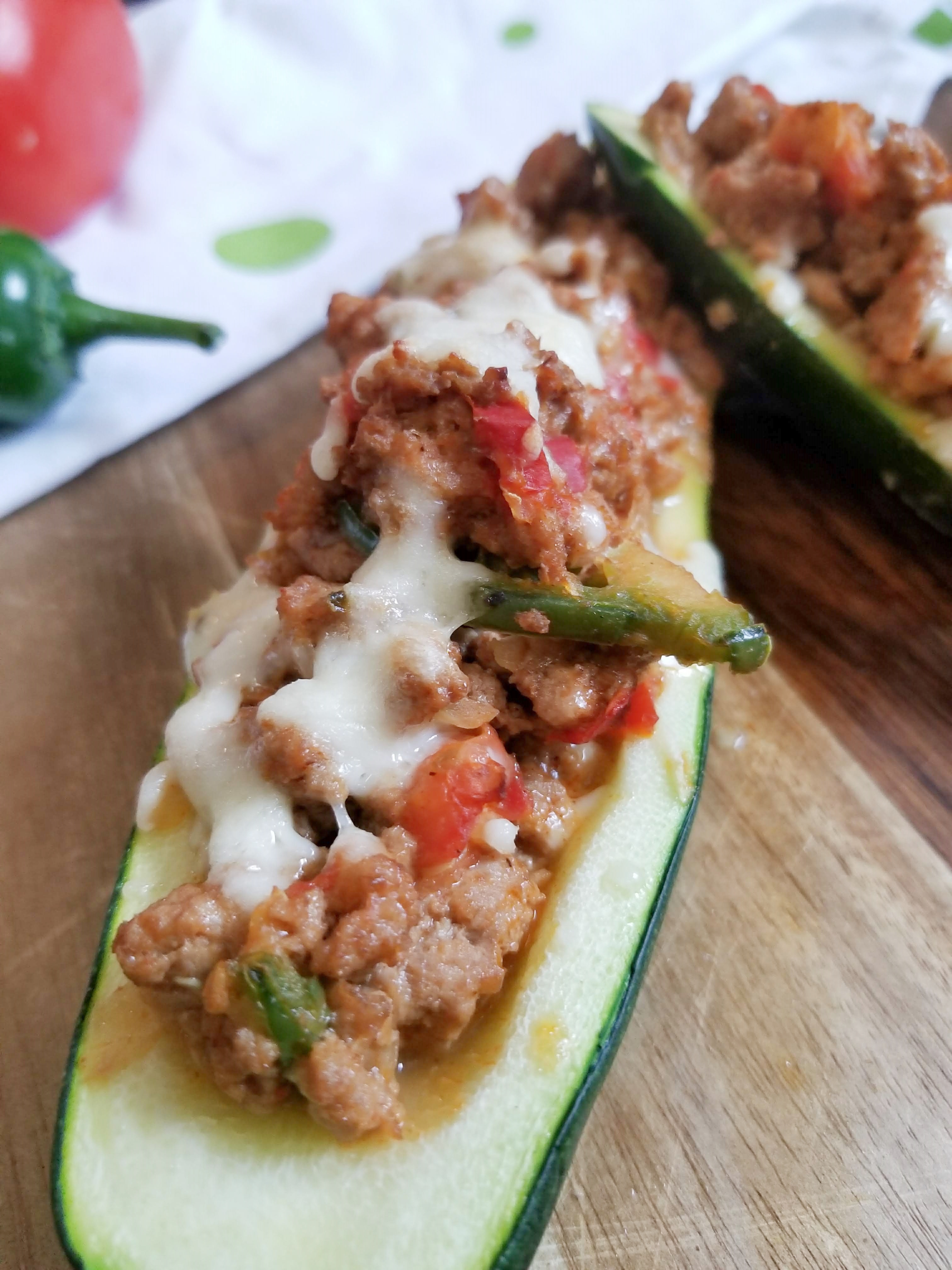 Cantaloupe, Corn, and Zucchini Salad with Lemony Pesto – A Calculated Whisk
This salad recipe combines the sweetness of cantaloupe and corn with zucchini in a lemon pesto sauce to ramp up the flavor. It is simple to make and would be a great meal to make ahead of time for lunch or dinner on the go. A Calculated Whisk uses a Produce Co-Op in her local area to source her produce, and so do I!
Get The Recipe
Grilled Vegetables with Jalapeño Aioli – A Calculated Whisk
These grilled vegetables (zucchini, okra, red onion, peppers) with jalapeño aioli are a great way to make the most of grilling season!
Get The Recipe
Italian Farfalle Pasta (Bowtie Pasta) with Zucchini and Ham
A simple topping of fresh vegetables and diced ham compliment farfalle pasta. The recipe from an Italian chef is a great way to highlight the summer bounty.
Get The Recipe
Goat cheese zucchini quiche – A Hedgehog in the Kitchen
The tastiest goat cheese zucchini quiche packed with nutrients and flavor. Easy to pull together, just 10 ingredients and 45 minutes!
Get The Recipe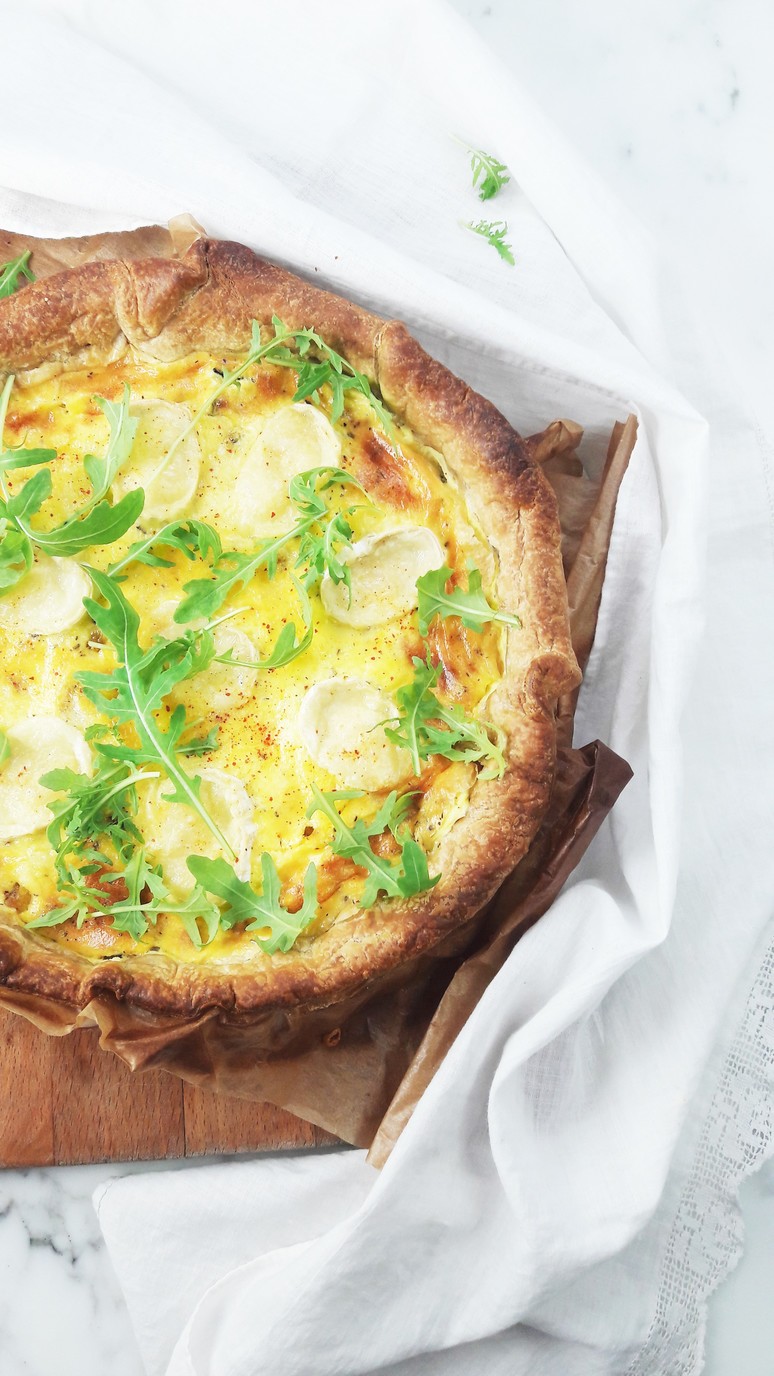 Roasted Zucchini and Squash
Roasted zucchini and squash is a quick and easy side dish that's ready in 20 minutes. Sliced zucchini and squash are coated in Italian seasoning and parmesan cheese then roasted in the oven.
Get The Recipe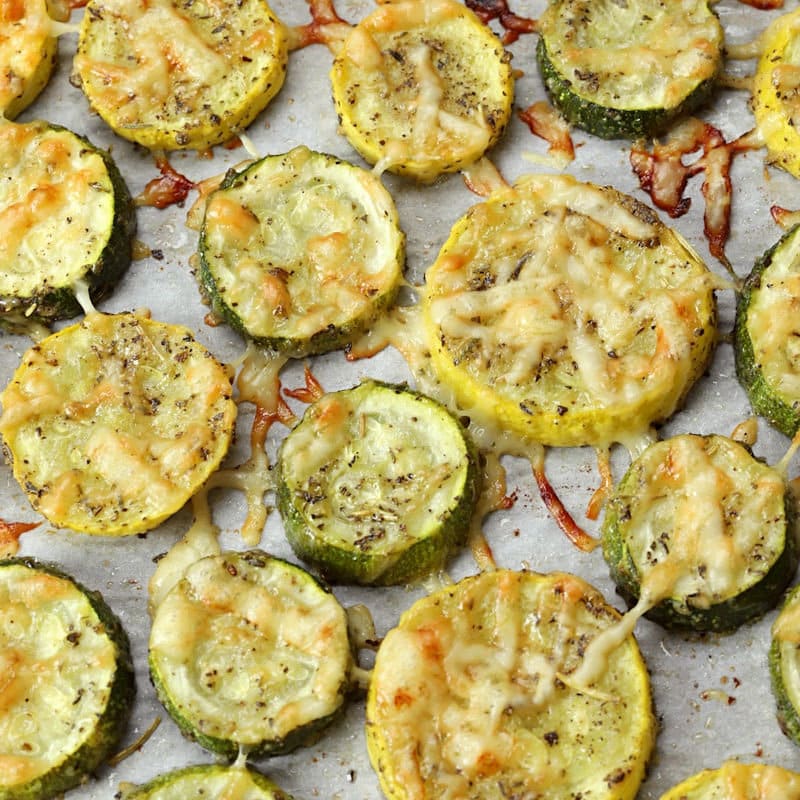 Lemon Garlic Zoodles (Whole30, Paleo, Vegan)
If your summer harvest is exploding with zucchinis, these Lemon Garlic Zoodles are going to be your favorite go-to recipe. The lemon and garlic really make the flavor pop. This super healthy zucchini noodle recipe is Whole30, Paleo, and Vegan. PS – it only takes 10 minutes to make!
Get The Recipe
Ratatouille Recipe – French summer vegetable stew
Ratatouille – delicious French vegetable stew, made from fresh summer vegetables. Tastes amazing on its own, with a crunchy baguette with salted butter.
Get The Recipe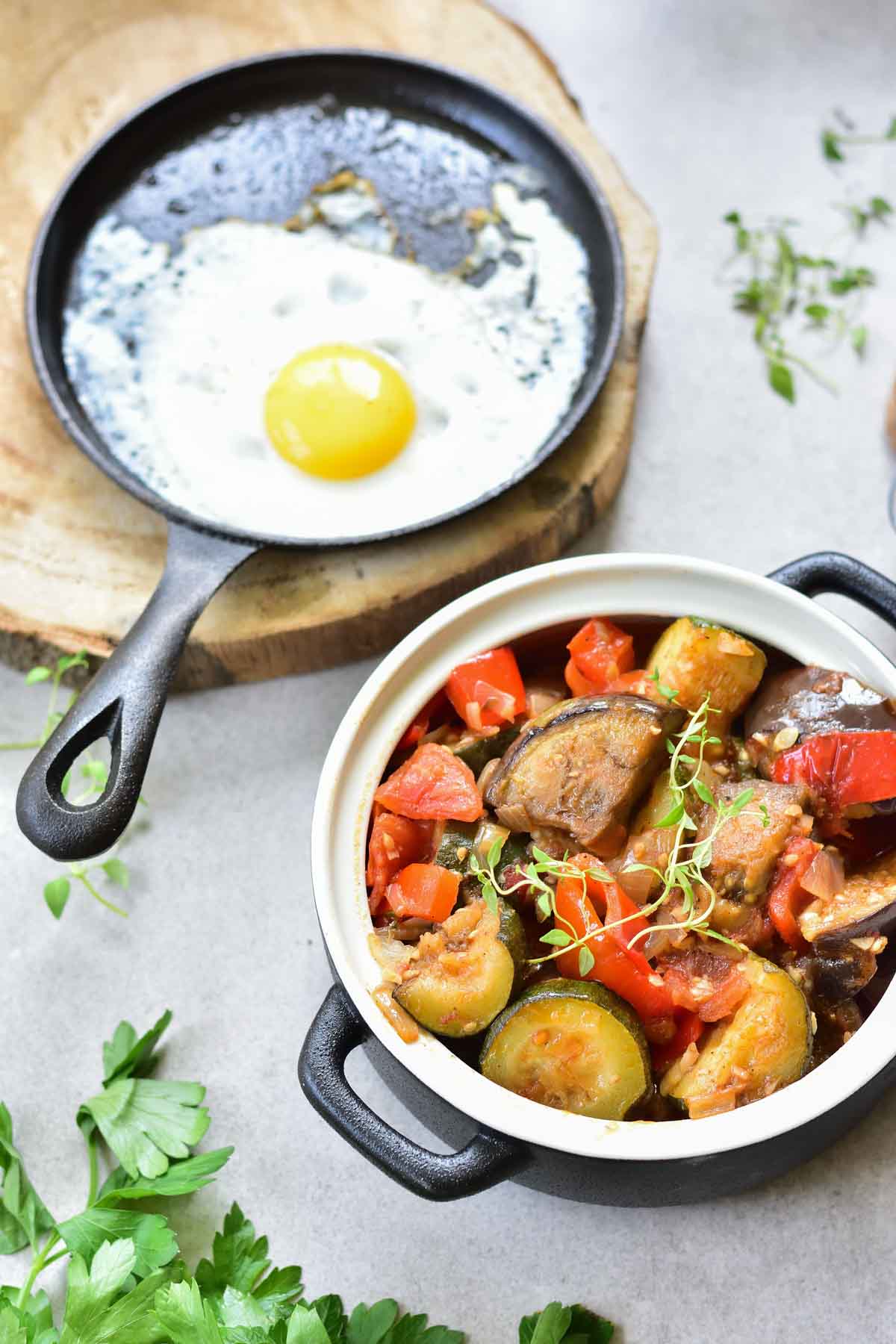 Keto-Friendly Beefy Minestrone Soup – Keto Cooking Wins
Rich, savory, and full of fibre, this keto-friendly Beefy Minestrone Soup is a fabulous one-pot dish for any meal. It freezes great, too!
Get The Recipe
Summer Crab Delight
If you are looking for a simple crockpeat meal that is full of flavor, low in points and easy to incorporate into your weekly meal prep rotation, then Crockpot Summer Crab Delight will deliver on all 3.
Get The Recipe
Share your favorite recipe with a friend, pin this to read later or comment below with a recipe you love that incorporates zucchini!
Check out some of my other recipes:
Sign Up For Our Email List and Get This Starter Guide for Emotionally Healthy Eating!
What are the Best Tools to Conquer Emotional Eating?
Are you looking to Conquer Emotional Eating For Good? Start with my FREE printable workbook! With pages to help you learn your triggers and work through them, with tips and advice to move past emotional eating, the workbook is the perfect place to get started!
Would You Rather Take My Course? Get On The List To Be Notified When It Launches!