If you have been a part of the weight watcher world for any length of time, you have probably heard about everything bagel spice. It was a game-changer for me, as everything bagels are my favorite things to have for breakfast. I grew up going to my corner bagel store and getting one before school almost every day. There are so many ways in which this spice can be used, and at the end of this post, is a recipe for everything bagel chicken, which will be your new go-to meal during the week!
Everything Bagel Spice Crispy Fried Chicken in the Air Fryer
One of my favorite dinners is chicken tenders. Once I started moving towards low carb meals and eventually living a keto lifestyle, I knew I needed to find a way to still get my crispy chicken fix without feeling guilty.
For the full, easy to read recipe, scroll on down to the bottom of this post (just don't miss all the other great recipes along the way!)
What is Everything Bagel Spice?
Everything bagel spice is a spice blend that usually consists of sesame seeds, salt, dehydrated garlic, dehydrated onion, black sesame seeds and poppy seeds. Originally, it was made popular by the retail store Trader Joe's, but now it is available through several different brands. Since I don't have a Trader Joe's near me, and all of the ones on Amazon are over $6 a piece, I get mine at Walmart under the Sam's Choice brand for only $1.98!
What Recipes Can I Make With Everything Bagel Spice Blend?
I've compiled a list of my favorite everything bagel spice recipes from various bloggers that I've listed below! These recipes may not have points calculated for you, but popping them into your app will just take a minute or so. I'm sure you'll find some favorites!
Everything But The Bagel Sweet Potatoes
Low Carb Avocado Toast
For those who now have AVOCADO as part of their Zero Point Foods… This is for you! This keto-friendly avocado toast is a fantastic alternative to high carb bread, use a cheese crisp instead! Spread the avocado on the cheese crisp, top with an egg and sprinkle the everything bagel spice on top!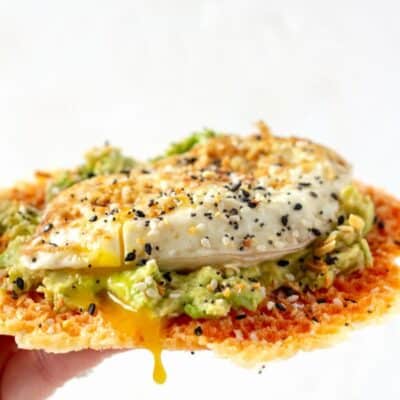 Everything Bagel Baked Salmon Salad Bowls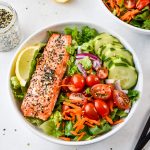 These delicious Everything Bagel Baked Salmon Salad Bowls are a quick and easy to make weeknight dinner option! They take just 20 minutes start to finish and they're simple to customize with your favorite dressing and veggies.
Everything Bagel Grilled Cheese Sandwich
Everything Bagel Goat Cheese Log
If you are looking for low carbs, serve this goat cheese log appetizer with cheese crisps, celery sticks, carrot sticks, or even cucumber slices. You can also serve it with bagel chips or triscuits for your friends! Just make sure that they are a plain flavor so that it doesn't overpower the everything bagel spice.
Stuffed Celery with Cream Cheese & Everything Bagel
If you are looking for a quick and easy snack that is low carb, keto friendly and healthy, stuffed celery with cream cheese and everything bagel spice is the way to go. If you're not into celery, you can also try this with cucumber slices, pepperoni chips or cheese crisps. For those on myWW, use a low fat cream cheese for lower points!
Everything Bagel Chaffle
When you start eating low carb or keto-friendly foods, chaffles tend to be a big part of recipes that need a bun. I love this recipe for everything bagel chaffles for burgers or breakfast sandwiches! It's great to make ahead of time and be able to have something delicious fast.
Everything Bagel and Lox Spread
I am all about easy to prepare snacks and lunches. This everything bagel and lox spread is one for my regular line-up! Smoked salmon, cream cheese, fresh dill and everything bagel spice. Spread it on a low carb tortilla or cucumber slices for a healthy snack.
Everything Bagel Cloud Bread
If you don't have a waffle maker to make chaffles, this easy everything bagel cloud bread is a great alternative for a bun or a sandwich. It's made from eggs, cream cheese and cream of tartar which means it is high in protein, grain-free and low in carbs. You can also use it with the lox spread above!
Baked Salmon with Everything Bagel
Just like the traditional everything bagel goes with lox on the streets of NY, this baked salmon with everything bagel seasoning gives you all the comfort of those flavors without the carbs. Perfect as a light lunch on top of spinach leaves or with roasted veggies for dinner, this is one recipe you have to try!
And Finally… Everything Bagel Chicken!
Here's the recipe you've patiently waited for. I know reading through these blogs to get to the recipe can be a lot, but I appreciate you!!
How Many Points Are In This Recipe?
With the new PersonalPoints Plan, points can vary for each individual person based on their unique list of zero point foods. Points can also vary with different brands. Please use your recipe maker to determine your exact points.
Are You on WW Connect?
Find me on WW Connect @Sassycooking_Alyssa to see my full recipe list!
Everything Bagel Chicken
Everything Bagel spice on chicken tenders, baked crispy in an air fryer. Serve with your favorite ranch or blue cheese dipping sauce, or even a greek yogurt dip!
Ingredients
1 lb Chicken Breasts Sliced
1 cup Panko Crumbs
2 tbsp Everything Seasoning
2 Eggs
Cooking Spray
Instructions
Add everything seasoning to the bread crumbs.
Mix well.
Dip chicken into beaten egg.
Roll in bread crumbs.
Place in air fryer or on air fryer racks.
Lightly spray with cooking spray.
Air fry for 15 minutes at 375.
Serve with your favorite cooking spray & enjoy!
Nutrition Information
Yield

4
Serving Size

1 grams
Amount Per Serving
Unsaturated Fat

0g
Here are some other chicken recipes you might like:
Check out some of my recent posts:
Sign Up For Our Email List and Get This Starter Guide for Emotionally Healthy Eating!