Healthy Chicken Tikka Masala in a Slow Cooker
When I'm looking or an easy slow cooker recipe to make on a busy school night, Chicken Tikka Masala is at the top of my list. Indian food has robust flavors to stir up your creativity in the kitchen and make you feel like you are eating a luxurious meal without sacrificing healthy eating to do so. It's a great choice for any of the MyWW plans for 2020, easy to make and will fill you up every time.
3 Points on MyWW Green Plan
0 Points on MyWW Blue Plan
0 Points on MyWW Purple Plan
Healthy Chicken Tikka Masala in a Slow Cooker
My husband, Jason, and I love Indian food, the flavors and rich aroma inspire cravings often. With our busy schedules, finding MyWW slow cooker recipes were important! In fact, Indian cuisine as a whole can be a source of healthy fats that is low in calories, perfect for those trying to lose weight.
Chicken Tikka Masala is my go-to entree with tender and juicy bites of chicken in a creamy tomato sauce, it's a great beginner dish for those just exploring Indian flavors.
How Healthy is Indian Food for MyWW Plans?
Indian cuisine tends to be more "Vegetable forward". In other words, entrees tend to highlight vegetables as the main component with a meat protein more on the sidelines. This way of eating decreases your sugar intake, increases your vegetable and protein intake and ultimately leads to healthier eating choices. This aligns well with all 3 new WW 2020 plans as vegetables are zero points.
If you like yogurt based, vegetable forward dishes, check out my recipe for Carrot Tarator!
It is a Turkish carrot dip you will love!
What is the difference between Chicken Tikka and Tikka Masala?
The definition of the words Tikka and Masala can help in remembering the differences between the two dishes. Tikka means pieces of meat or vegetables that are marinated and then baked in a tandoor oven on a large skewer. Masala translates into spices crushed into a paste or "curry", depending on the translation. This distinction between the cooking process helps determine the difference between Chicken Tikka and Tikka Masala.
Chicken Tikka and Tikka Masala are very similar dishes until it is time to serve them. The chicken is marinated in a blend of yogurt and spices before being cooked. This is where it ends up on your plate as Chicken Tikka.
If you take it a step further and add the rich tomato cream sauce, it becomes Tikka Masala. You can easily swap the heavy cream in the traditional recipe for a nonfat yogurt for the rich flavor without the fat and calories.
What makes Chicken Tikka Masala a healthy meal?
When you break down the ingredients in this recipe, there are numerous health benefits that can be gained from indulging this dish.
Chicken: low in fat and high in protein.
Nonfat Yogurt: high in protein and calcium
Garlic: Lowers blood pressure, blood sugar and cholesterol, rich in anti-oxidants
Garam Masala: Contains anti-inflammatory properties, as well as being known to lower cholesterol and blood sugar.
Coriander: Contains high amounts of iron to benefit blood circulation, anti-inflammatory, anti-septic properties
Cumin: Aids in digestion, improves immunity and promotes fat reduction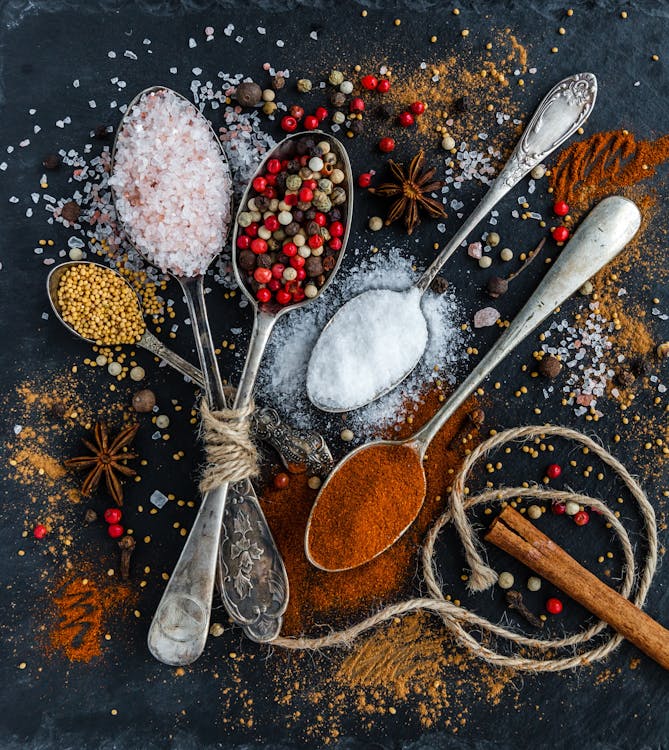 With all of these benefits in mind, Chicken Tikka Masala is a powerhouse of nutrition!
What do you serve with Chicken Tikka Masala?
During my weekly WW meal prep, I love to incorporate side dishes with robust flavors. Roasting vegetables with similar spices to the main dish creates a composed meal. When you stick to vegetables or a side salad, you could have a filling meal for low myWW points!
My preferences to serve with myWW slow cooker chicken tikka masala are roasted vegetables like cauliflower or spaghetti squash with Ras El Hanout seasoning and your favorite zero point cooking spray for zero points per serving.
If you are craving naan, (trust me, I love it too), I did find a wonderful recipe for Garlic Naan that is low in points. When you really need that taste of bread to soak up the extra sauce, this is the recipe to use. It also freezes well so you can save it for the next craving or use it to accompany a low points lunch bowl.
What is Ras El Hanout?
Ras El Hanout is a middle eastern spice blend similar to curry. Each blend is uniquely different because almost every cook has their own combination of spices subject to their personal tastes.
I use "Frontier Co-Op" brand because it is a non-GMO, organic blend of authentic spices. It is a blend of coriander, turmeric, cardamom, clove, sea salt and black pepper. Frontier is member-owned with a commitment to doing business sustainably and responsibly while donating back 4% of its pre-tax profit to charities!
I am a huge fan of Co-Ops, as we use our local SWFL Produce for everything from fruits and vegetables to farm fresh eggs and local honey. Check your area to see what is available for you!
How do you make Slow Cooker Chicken Tikka Masala?
What products do you recommend to make this weight watchers chicken tikka masala?
Slow Cooker Chicken Tikka Masala
Yield: 8
Prep Time: 15 minutes
Cook Time: 8 hours
Total Time: 8 hours 15 minutes
A popular Indian takeout dish, reimagined with WW Freestyle points in mind.
Ingredients
28 oz Canned Crushed Tomatoes
1 Small Onion, minced
1 tbsp Garlic, minced
2 tbsp Garam Masala
1 tbsp Dark Brown Sugar
½ tsp Ground Cumin
½ tsp Ground Coriander
2 lbs Boneless, Skinless Chicken Breasts
1 tbsp Kosher Salt
½ cup Plain Lowfat Greek Yogurt
¼ cup Fresh Cilantro, chopped (optional)
Instructions
Combine all ingredients, except yogurt and cilantro, in 4- to 6-quart slow cooker
Cook on high for 3 to 4 hours or low for 6 to 8 hours.
Stir in yogurt and cilantro.
Nutrition Information
Yield 8
Serving Size 1 grams
Amount Per Serving
Unsaturated Fat 0g
*Pro Tip: The longer the chicken cooks, the easier it will be to shred. If you choose to shred it, you can use it on top of salads, in meal prep dishes for lunch during the week or wrapped in lettuce for wraps.
What side dish did you choose to make with this?