This avocado tuna salad is so healthy and easy to make. It is high in protein and healthy fats, making it a great meal for lunch or dinner. Plus, it is really versatile and can be customized to any taste. You can add different herbs or spices to the salad or switch out the tuna for a different protein like salmon or chicken. Whether you are looking for a quick and easy lunch or a nutritious dinner, this avocado tuna salad is sure to satisfy. It is healthy, easy, and delicious!
Can you eat Avocado Tuna Salad on Weight Watchers?
This healthy and easy Avocado Tuna Salad is perfect for a quick and nutritious meal. The canned tuna and avocado make the dish high in protein and healthy fats, while the mayonnaise and lemon juice add a tangy flavor. It's also incredibly easy to make, so it's perfect for busy weeknights. Serve it with some fresh greens and you've got a delicious and nutritious meal in no time.
What are the benefits of eating avocados?
Avocados are all the rage across kitchens everywhere. This stone fruit with a brilliant green shade and creamy texture is served in a multitude of ways. The nutritional benefits of avocados include Omega 3 fatty acids, vitamins, fiber and are a source of healthy fats for the body. We have been taught that fat is bad, but this is not always the case. Healthy fats are essential for every cell in the body in regards to skin health, the absorption of nutrients and boost your immune system.
Is tuna safe to eat often?
Tuna can be a high-quality protein, packed with Omega-3 fatty acids to keep your heart healthy. However, tuna does contain higher-than-average amounts of mercury, which is a toxic metal that may result in severe health issues. When it comes to canned tuna, there are several varieties that change how often you should consume it.
Canned white or albacore tuna: For adults, limit to 3 times per month, while children should limit to 1-2 times per month.
Canned light: This is the better choice and can safely be eaten once a week for children and adults over 6. Just be careful to read the can. If it is made with yellowfin tuna, the mercury levels will be just as high as albacore.
What Alternatives Are There For Canned Tuna?
There are several substitutions that would work with this combination of flavors:
Pulled Chicken Breast
Shredded Turkey Breast
Salmon
Flaked Crabmeat
What Are Different Ways To Serve Avocado Tuna Salad?
The best part about this Avocado Tuna Salad is you really have the freedom to make it your own. You can incorporate the tuna salad with the avocado mashed up, or slice it inside the shell and use a spoon to take a bite of each. If you're feeling extra hungry, serve it on top of a salad with romaine and arugula. The possibilities are endless!
Featured Recipe: Avocado Tuna Salad
How Many Points Are In This Recipe?
With the new Plan, points can vary for those with diabetes. Check your zero point foods. Points can also vary with different brands. Please use your recipe maker to determine your exact points.
Are You on WW Connect?
Find me on WW Connect @Sassycooking_Alyssa to see my full recipe list!
Avocado Tuna Salad
The delicious combination of chili lime salt and avocado with the protein punch of tuna! This is the low point lunch you've been searching for.
Ingredients
1/2 Avocado
7 oz Tuna (water packed, drained)
1 tsp Chili lime seasoning
1/8 cup Chopped onion
1 tbsp Lime juice
1/4 tsp Salt
Spring onions for garnish
Instructions
Slice the avocado in half, reserving the half with the pit still in it for later.
Use a spoon to easily scoop the remaining avocado out of the shell into a bowl. Mash together with the lime juice, salt and chili lime seasoning.
In another bowl, combine the tuna and onion before folding in the avocado.
Serve right in the avocado shell or on top of romaine or arugula salad.

Recommended Products
As an Amazon Associate and member of other affiliate programs, I earn from qualifying purchases.
Nutrition Information
Yield

1
Serving Size

1
Amount Per Serving
Calories

466
Total Fat

17g
Saturated Fat

3g
Trans Fat

0g
Unsaturated Fat

13g
Cholesterol

94mg
Sodium

1101mg
Carbohydrates

21g
Fiber

10g
Sugar

4g
Protein

61g
*This is an automatic calculation by a third party app*
Optional: Instead of adding avocado and romaine into the tuna salad, mix it and serve it inside the avocado with diced tomatoes on top instead over a bed of arugula.
Tell me that's not the simplest recipe ever? Throw it in your favorite meal prep container and you are ready to go!
Where do I buy Chili-Lime Seasoning?
You can find Tajin at almost any store. However, this Chili-Lime Seasoning at Trader Joe's is also really popular or you can grab this awesome bundle including Everything but the Bagel seasoning on Amazon!
What other Weight Watcher Friendly Avocado Recipes are there?
Because I am such an avocado fan, I love to hunt for other weight watcher friendly recipes. In my online travels through various recipe blogs, I've found that there are often recipes that can be healthy and low in points with a few adjustments. Here are a few of my favorites that I have discovered.
Breakfast (or Snack): Avocado Banana Muffins
Avocado Banana Muffins
Soft banana muffins made with avocado and orange essence. Avocado adds wonderful texture and health benefit to these muffins and the flavor is divine.
Get The Recipe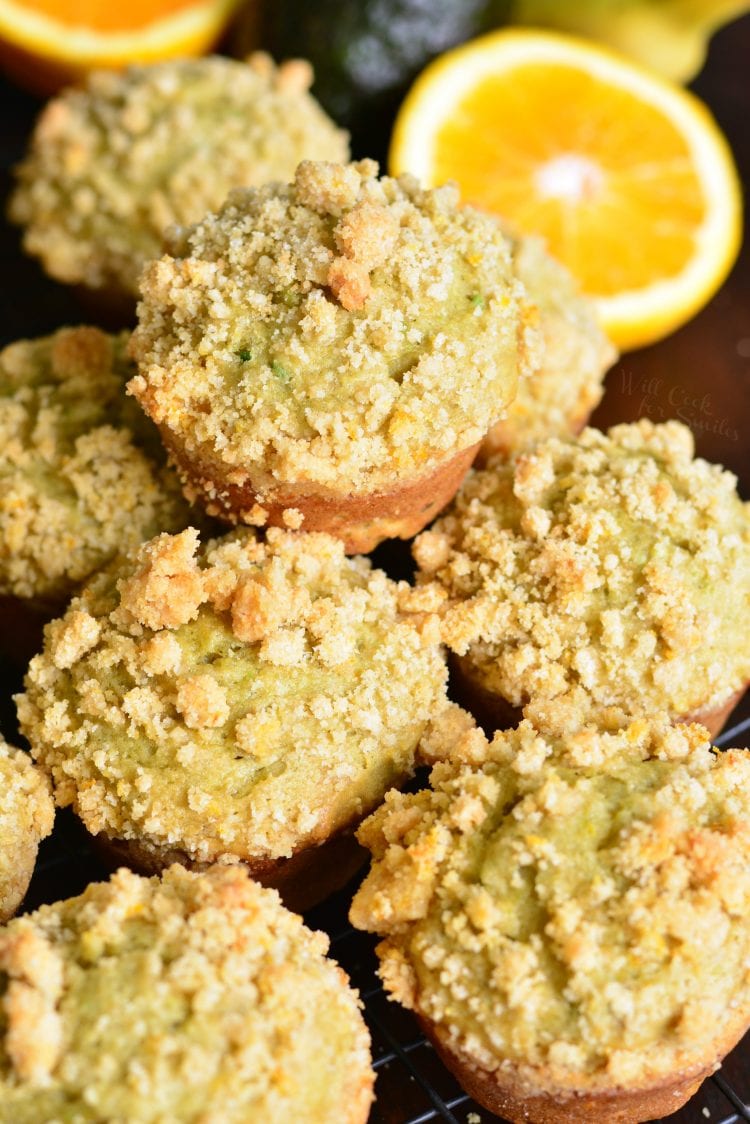 On Will Cook For Smiles, she created a delicious recipe for avocado banana muffins that incorporated the zest of an orange and topped with a streusel that was literally sugar on sugar with butter and flour. I knew in order to curb the points in this recipe without sacrificing taste, I could make simple swaps and adjust portions. For this recipe, I chose to swap Truvia instead of the white sugar to cut over 20 points from the full recipe and change from 12 average size muffins to 24 mini muffins. Between the avocado and banana, these are packed with nutrition and are the perfect energy boosts for breakfast or as a mid-morning snack.
Lunch: Heirloom Cherry Tomato, Avocado and Arugula Salad
Vegan Arugula Avocado Tomato Salad
It's loaded with spicy arugula, juicy grape tomatoes, fresh basil, and creamy avocado chunks tossed in a tangy balsamic vinaigrette. This vegan side dish is easy to make and it's ready in 20 minutes!
Get The Recipe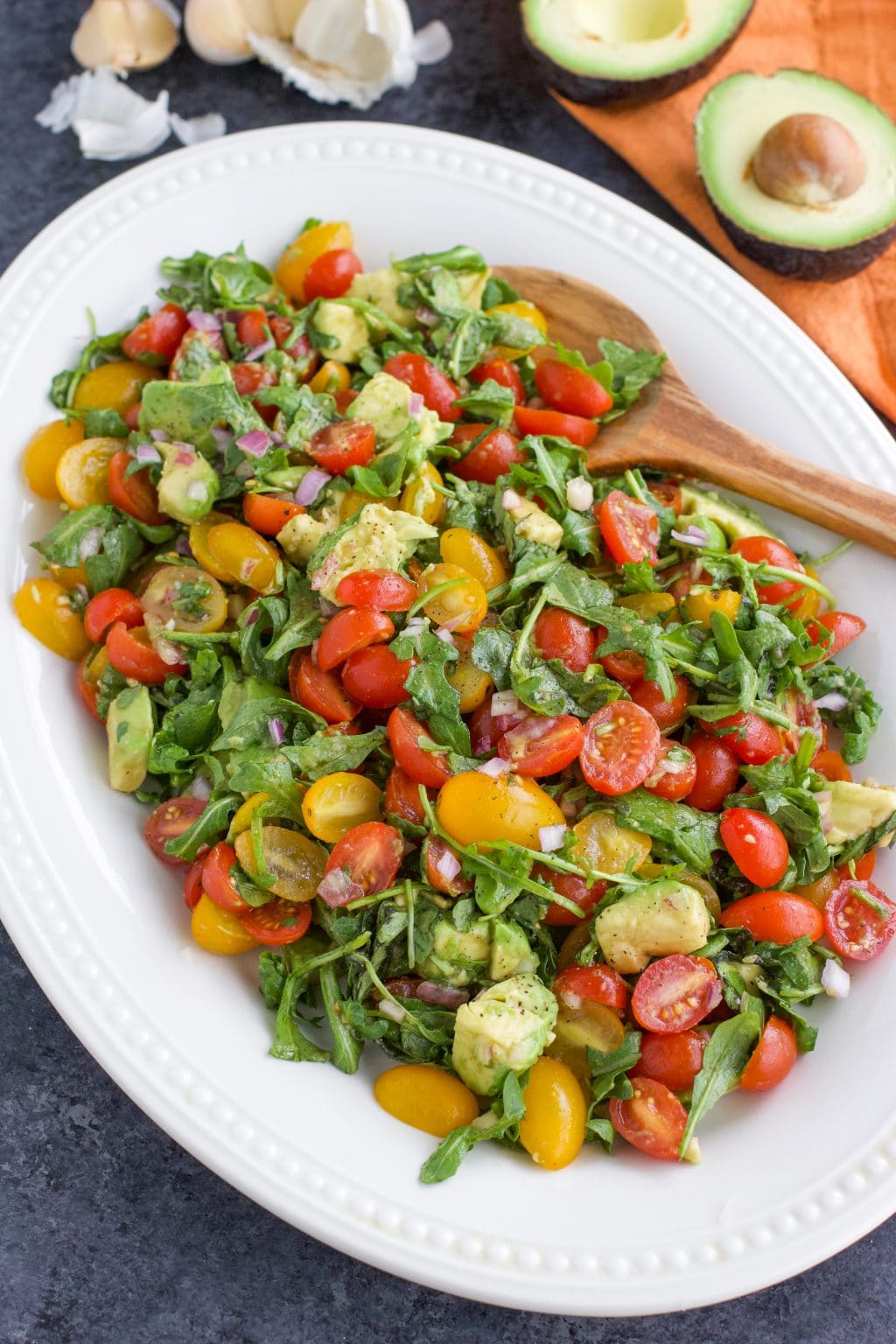 I love Stacey Homemaker's simple recipe for this cherry tomato salad. I love getting my heirloom cherry tomatoes from our local produce co-op and I can always count on them for fresh arugula and avocados. While this recipe calls for a balsamic vinaigrette you make yourself with a little maple syrup, you can easily use your favorite Skinnygirl dressing.
For Dinner, Check out My Chicken Fajita Lettuce Wraps with Avocado Lime Dressing!
Chicken Fajita Lettuce Wraps
Chicken fajita lettuce wraps with creamy cilantro sauce are a delicious fusion of Mexican and Tex-Mex flavors, combining succulent chicken and fresh vegetables with a zesty marinade and creamy cilantro sauce, all stuffed into crisp lettuce leaves.
Get The Recipe
Sign Up For Our Email List and Get This Starter Guide for Emotionally Healthy Eating!